Spent the day cleaning the house and studying French until about 3:30 when I had to get out for a walk. Took one of my favorite routes through the village, passing five wineries, then out the road to Cucugnan, which takes me past several vineyards and a farm housing a few donkeys. Take a left at the municipal swimming pool to a small road through more vineyards.
I walked up to a vineyard owned by Marcel Buhler that I have been photographing periodically since I got here. It's a beautiful place, alive, organic.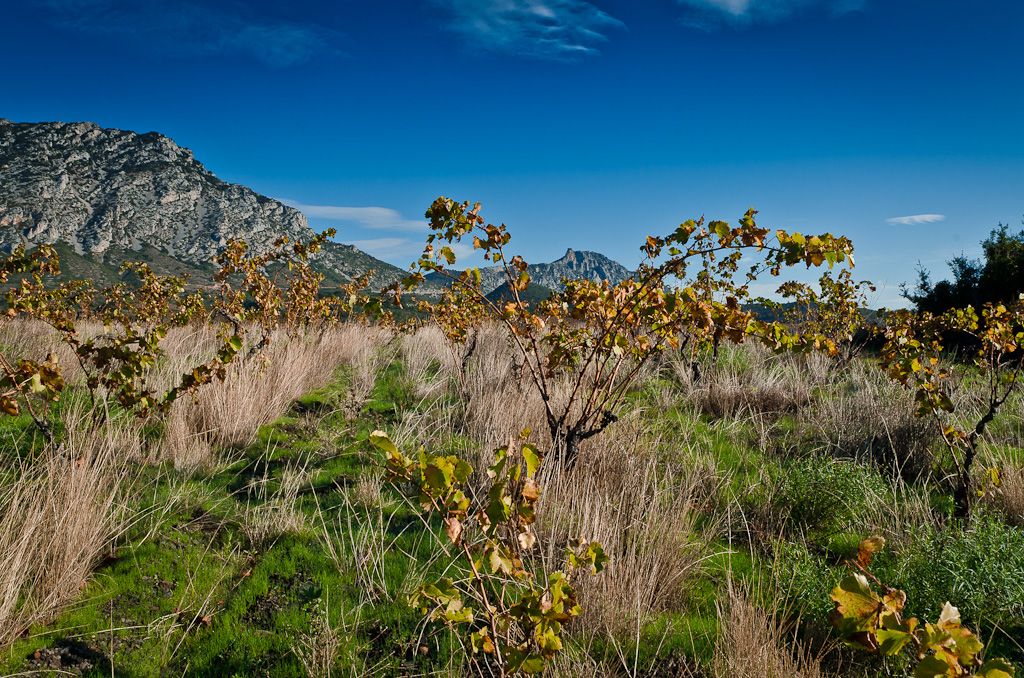 After shooting for a while, I walked on. The next plot was clearly not being farmed organically and the difference was striking: everything looked dead. The vines, of course are alive, just entering the dormant winter months, but there's nothing else. The insecticides and herbicides used to prevent vine diseases have destroyed everything else.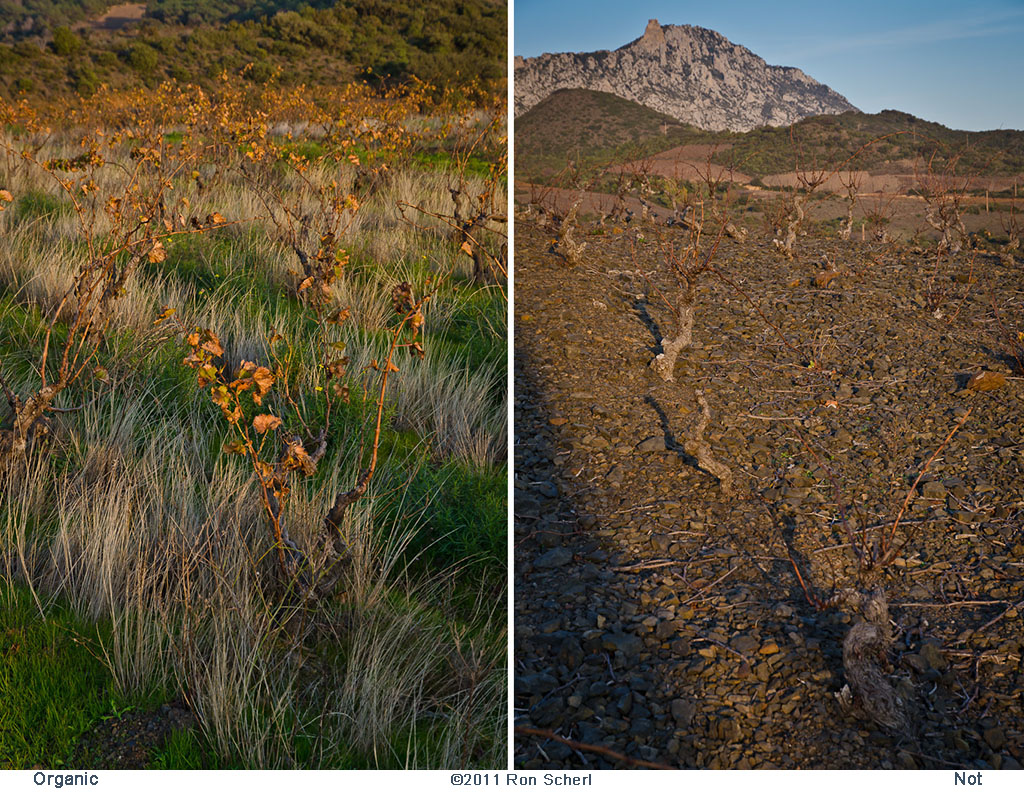 Look at the vineyard on the left, all the vegetation is thriving; there are multiple kinds of grasses, weeds and moss. The place is teeming with insects, flying around and biting my neck. The vineyard is farmed organically adhering to many biodynamic principles and is certified organic by Ecocert.  Biodynamism holds that the vineyard is a complete environment and the insects, animals, weeds, grasses, soil, rocks and vines are all part of the environment and necessary for its health. It is a philosophy based on the writings of Rudolf Steiner and is much more in use in Europe than the United States.
There is a clear connection here to "terroir" a concept that goes beyond the soil to encompass the entire environment of the vineyard and includes the effects of the intervention of human animals as well. Today's Holy Grail of winemaking is a wine that expresses the terroir or has a sense of place. Here in the Roussillon it is often expressed in minerality that should come from the extreme rockiness of the soil. David Darlington in his book: An Ideal Wine: One Generation's Pursuit of Perfection quotes winemaker Randall Grahm "To put it simply, if your soils are alive, you get minerals from them."
It's difficult to come to any conclusion other than those farmers not using organic methods are poisoning the soil they depend on for their livelihood. This is where the influx of new winemakers like Marcel can make a difference; a healthy interchange of ideas, learning from each other is exactly what Charles Chivilo, the mayor of Maury spoke about as one of the benefits of foreign investments in the vineyards. So the old residents can learn organic farming methods and perhaps teach the newcomers to hunt wild boar. Because for everyone, it always comes back to the land.