The weekend celebration actually kicked off Friday night with a tour of the outdoor art exhibit throughout town, followed by a paella dinner at the kiosque. I had every intention of covering this event for my loyal readers but there was serious competition, a very good group was playing at the café. Three women playing guitar and various percussion instruments and singing beautifully took a wonderful musical world tour: Brazil, Cuba, Mexico, Africa, Spain, the US and France. It was a great show so I opted for the music and merguez over the paintings and paella.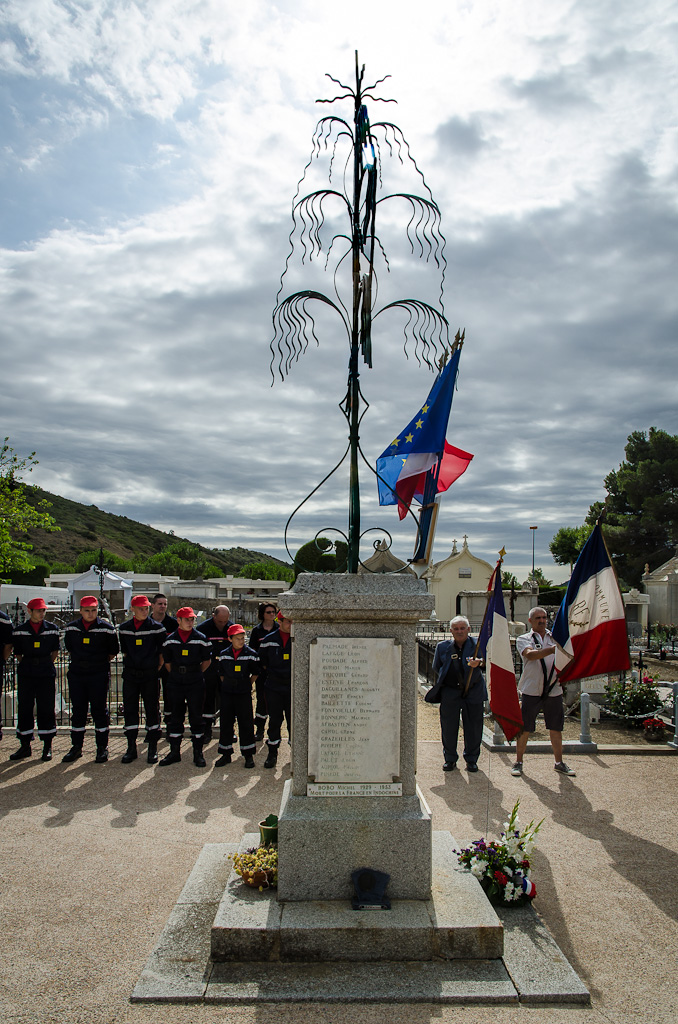 Bastille Day ceremonies began about 10 AM when people gathered in the Place de la Mairie. Flags were flying, the mayor wore his sash and the veterans their medals. Not many left now and the ones that are served in Algeria. Since official France does not consider that war to have been a war, the medals were awarded for service in the "maintenance of order."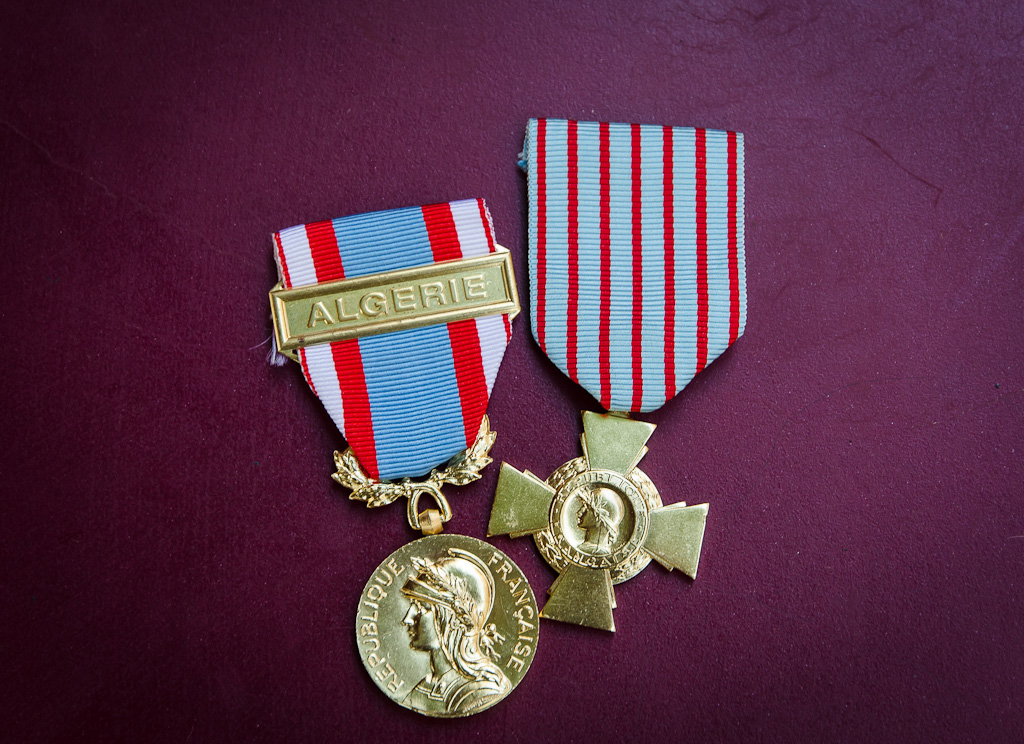 The firefighters and their teenage trainees led the march from the Mairie through town to the war memorial, which is in the cemetery. There, flowers were placed, the mayor made a short speech and asked for a moment of silence for those who sacrificed for France. Then we marched back up to the Mairie for a short ceremony honoring the living veterans who were present at which point the mayor invited everyone to join him at the café for a drink. That's France in a nutshell: patriotism, recognition and a pastis.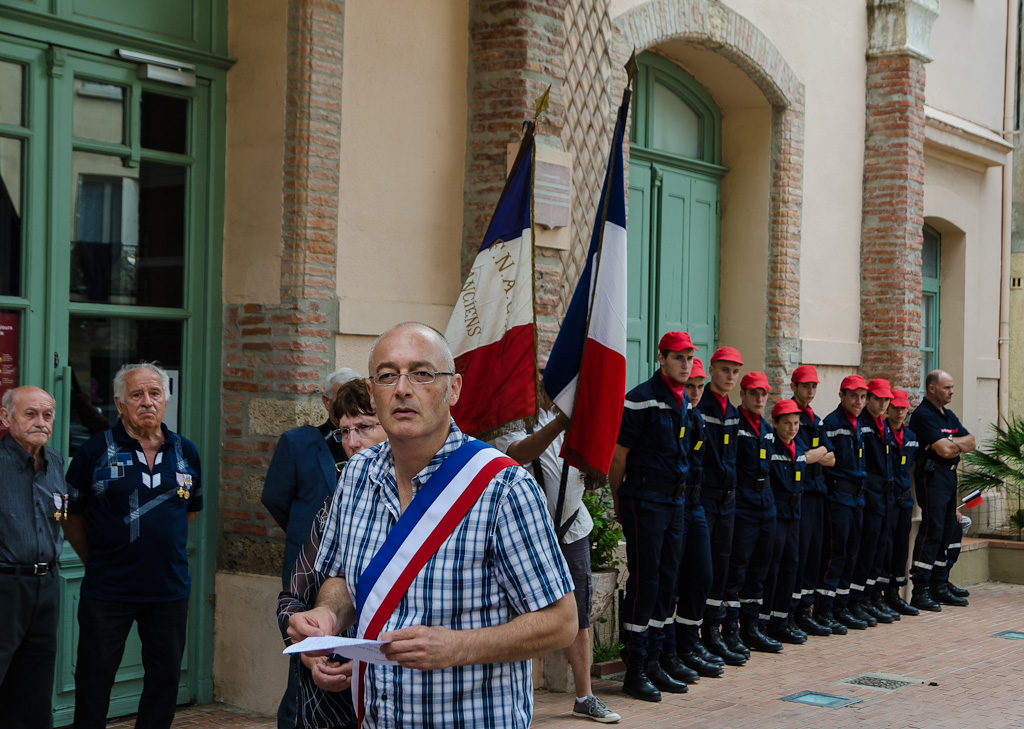 I felt it was my duty as a legal resident to see this through so I joined the group at the café and received cheers and nods of approval when I ordered a glass of Maury. This was not your usual café crowd. For one thing, it's probably the first time since I went to shoot bingo at the club for the elderly, that I wasn't the oldest person in the room; and also, the place was not quite up to the standards of some of the first-time patrons. The tables weren't properly cleaned, the glasses didn't sparkle and the Schweppes was lemonade. When the Maury was served, several people were sure it wasn't the real deal, so the glass was passed to Pierrette, the president of the Cave Cooperative, who pronounced it real Maury Blanc. That still didn't satisfy, so the glass went to Paul, the former president who agreed with Pierrette. With the wine suitably blessed, another round was ordered. Still not everyone was happy and the lemonade went to water the tree.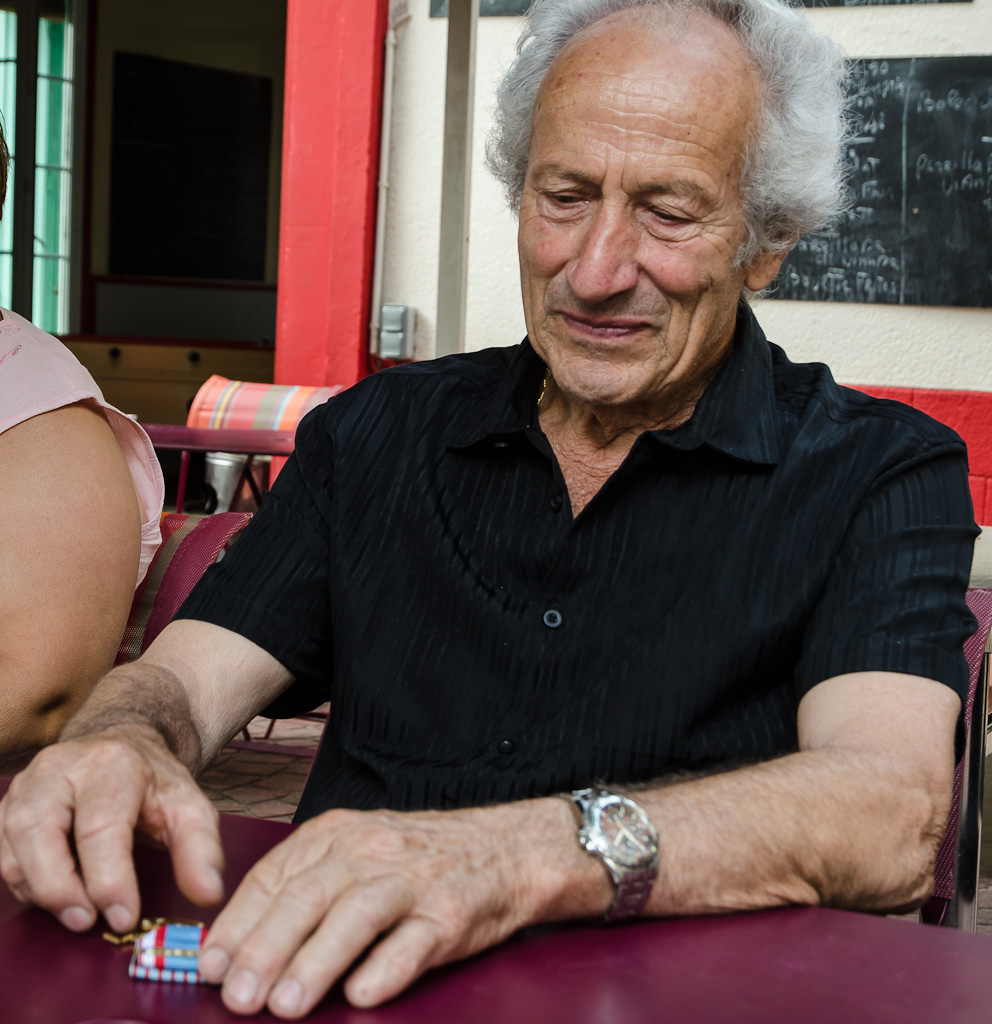 The evening brought fireworks, a rock band and more eating and drinking for a distinctly younger crowd outdoors at the kiosque. It's getting hard to keep up.