And a few days away from the problems of my fictional photographers.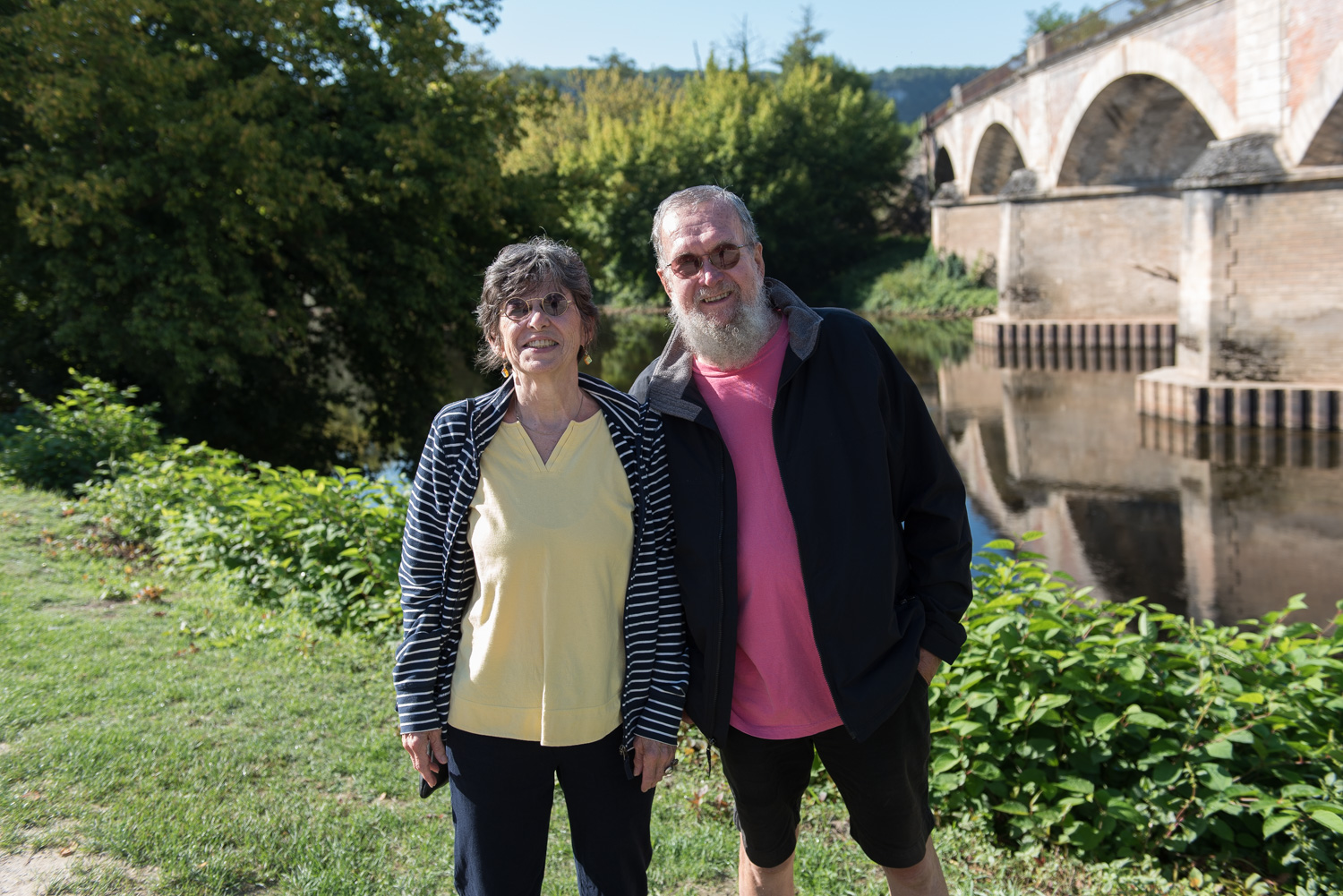 Hago and Danny arrived for a brief visit and we took off for the Dordogne, which we all knew only from Martin Walker's Bruno series of detective novels. Bruno's almost superhuman wisdom, compassion, and perspective are a bit unbelievable, but the sense of place Walker evokes is tremendously inviting, so off we went: TGV to Bordeaux, rental car to our base in Sarlat.
Bruno lives in the fictional village of Saint-Denis, which exists only in Walker's imagination, but he creates the place with bits and pieces of regional towns including Sarlat, Les Eyzies, Beynac, and Saint Cyprien.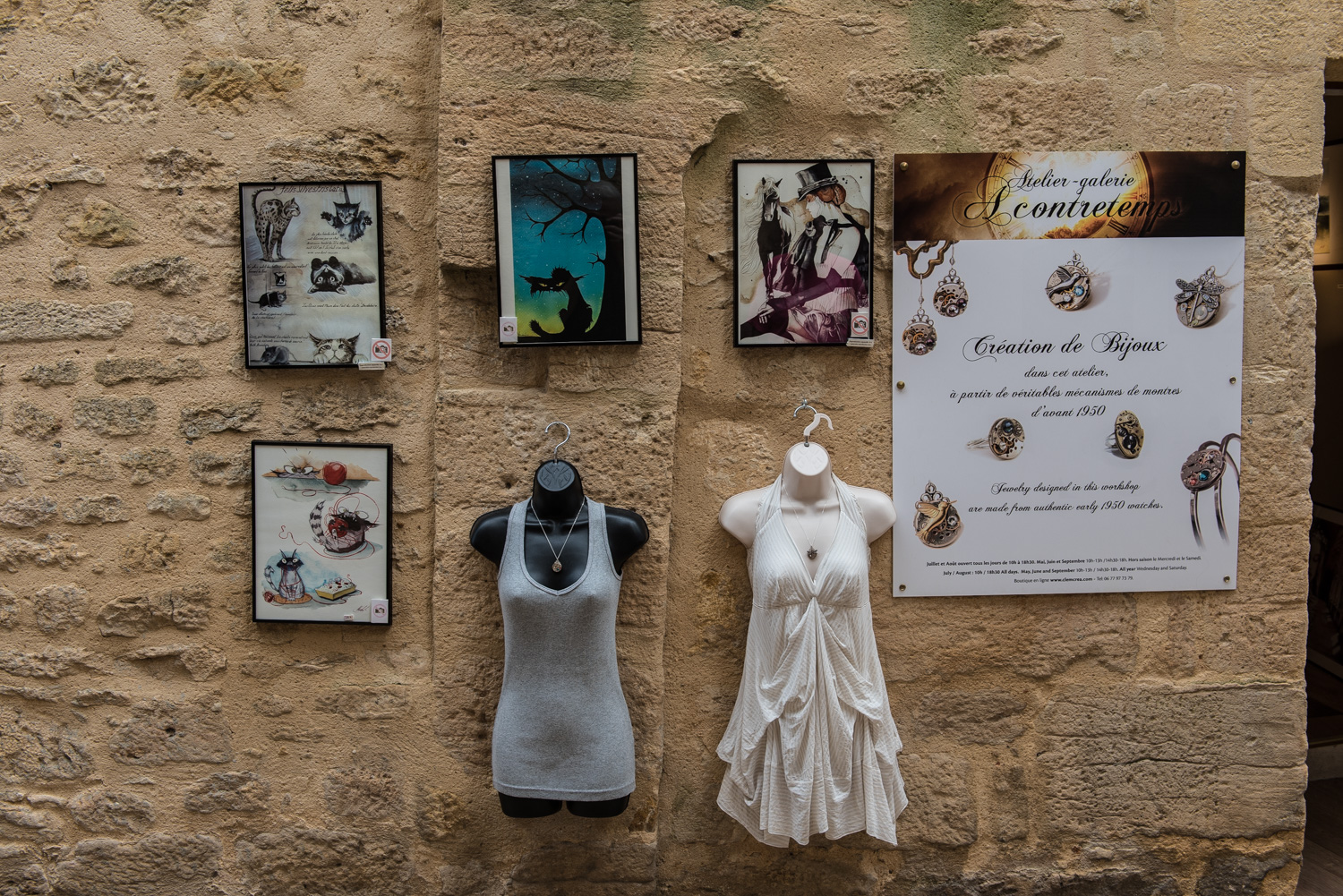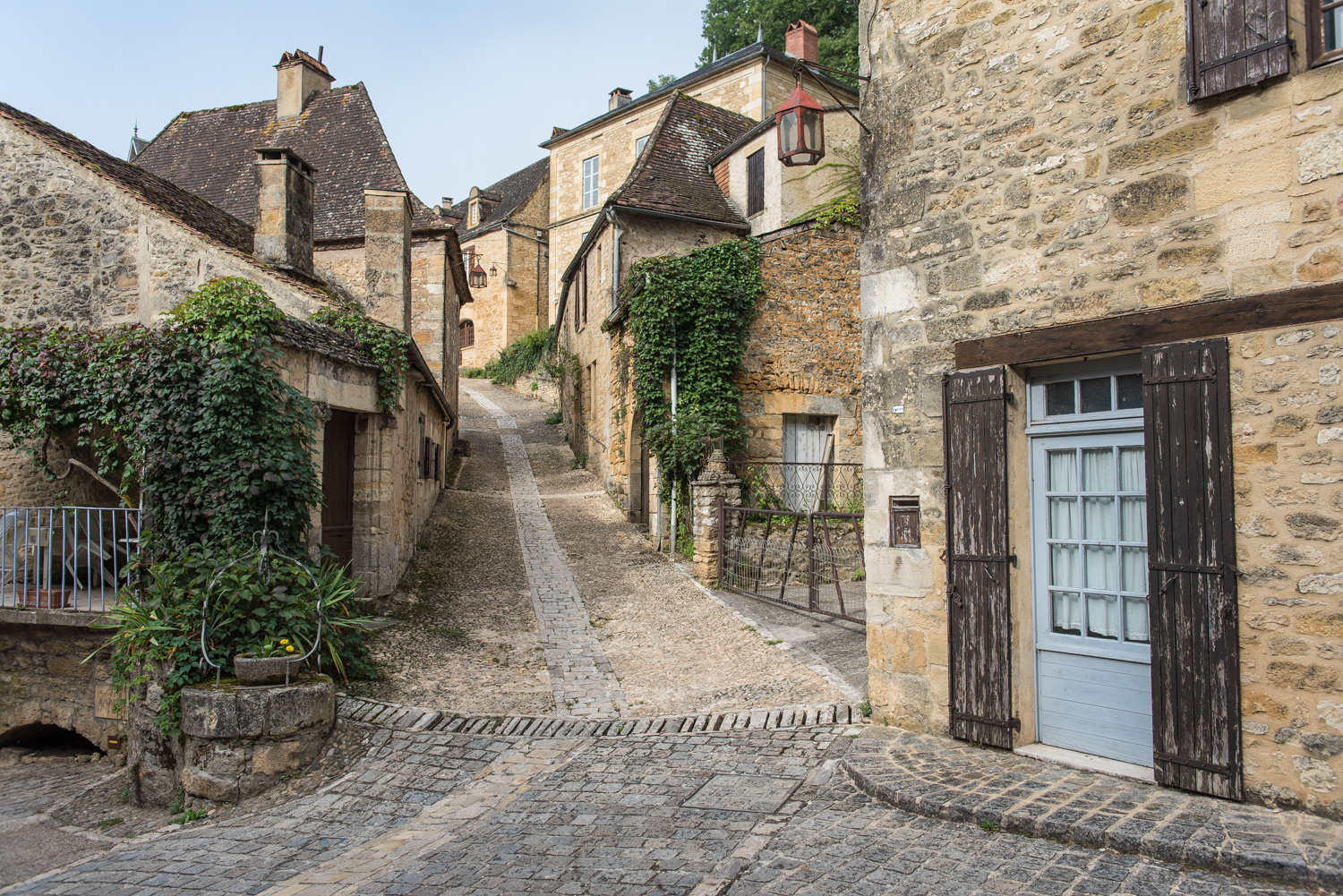 We arrived too late for the Saturday market and left before the Wednesday edition, but there's no problem finding good food in Sarlat—if you like duck. Magret, dried magret, gizzards, confit, any way you want it.  But there's also goose, beef, pork, and, thank heavens, fish. They grow a lot of corn around here but most of it goes to feed the ducks and geese; other vegetables make rare appearances, except of course potatoes, which Bruno—who can be found in the kitchen when he's not chasing bad guys or coaching rugby—fries in duck fat. Just writing this is hardening my arteries and generating a craving for lettuce.
We did occasionally push away from the table and do our touring duty by exploring a cave and boating on the Dordogne River. Cave access is limited. We didn't arrive early enough to get into our first choice—did I mention the lovely Bergerac wines?—and second place was a letdown. The visible etchings were underwhelming, although my vision may have been less than keen after the third time I hit my head. This is not a great adventure for people over six feet tall with aging knees. The boat ride was more relaxing; I might better describe it as nap-inducing. Not at all a bad thing.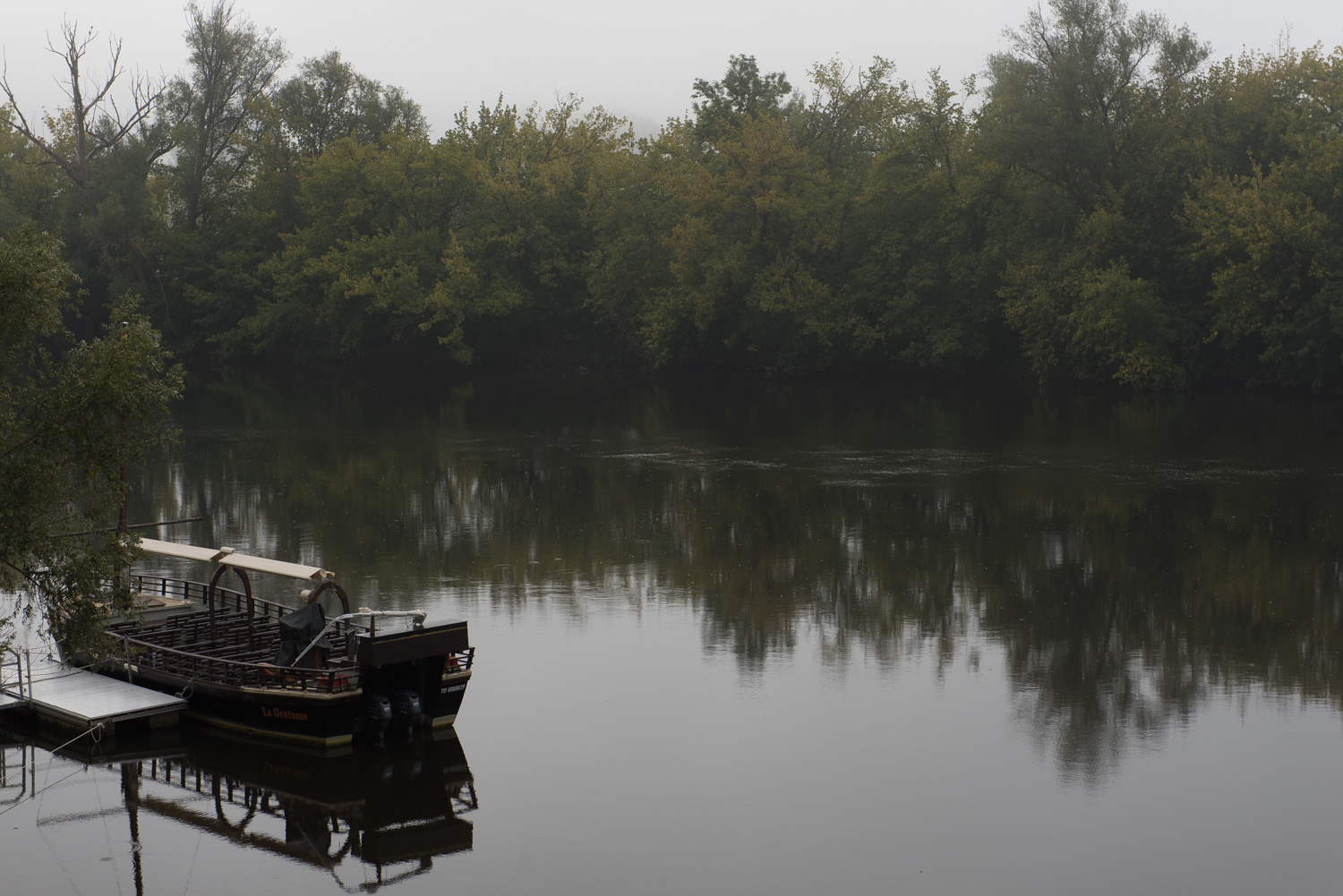 For me, the best parts that didn't involve eating and drinking were just walking through the villages. There's a distinctive architectural style of light stone or masonry walls, peaked roofs clad in brown stone tiles and turrets capped with witches' hats. It's charmingly traditional and pretty consistent until you get to the main street of Saint-Cyprien.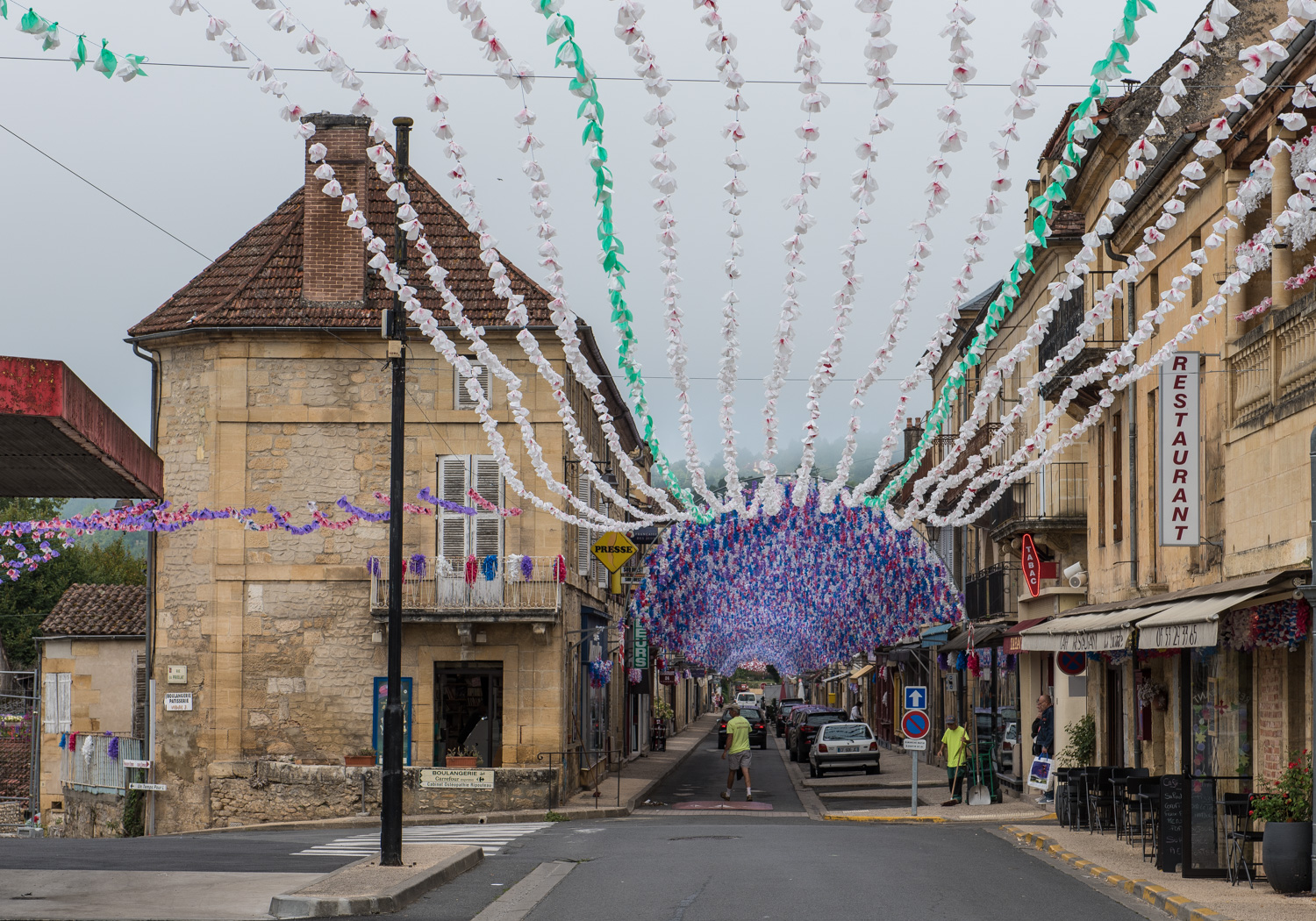 I cannot explain this. I asked a street sweeper if there was a fête going on and he told me no, that's on the first of July. So I asked if the town was always decorated like this and he decided to have a little fun with the tourist rube, telling me it was the work of fantômes. I thanked him and looked for the tourist office but it was closed for lunch.